Ryne, 8 Years Old
These new photos of Ryne and Claire were taken by professional photographer Cory Shubert.
Click on either picture to link to Cory's website.

6 months old and already a fan!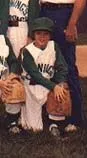 10 years old, 40 lbs, and already known
for having a big glove!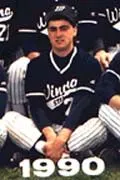 I've got my game face on as a college catcher.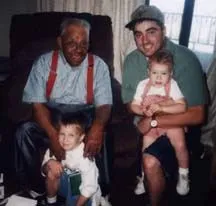 With Double Duty in his Chicago apartment in 1999
with my son Ryne and daughter Claire.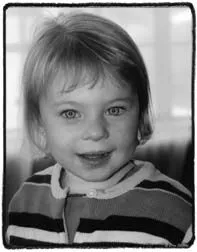 Claire Double Duty Radcliffe McNary
(No kidding!)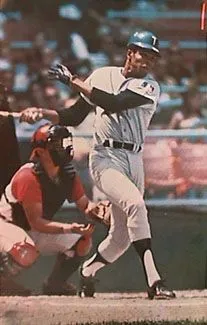 Kyle McNary
I was born in 1967 in Mitchell, South Dakota and loved baseball from the time I was three. I was a good player growing up but was always the smallest kid on every team.

My baseball heroes growing up were Pete Rose, Graig Nettles, George Brett and Rod Carew.
When I reached high school, I had enough of a growth spurt to bring me up to average size and I became an all-metro player. I batted over.400 in high school but I enjoyed playing third base more than anything else.
When I got to college I became a catcher because of a broken ankle that slowed me down.
In my last year of college I read an article about Negro League baseball and it soon became my passion. I wrote to libraries across the country for information and built a huge research collection.
I especially was interested in the 1935 Bismarck, North Dakota semipro team and I traveled to the North Dakota Historical Society to look through miles of microfilm, piecing together the story of this great team.
After living and breathing baseball for more than 25 years now, I truly believe that the '35 Bismarck team, featuring the pitching staff of Satchel Paige, Double Duty, Hilton Smith, Barney Morris and Chet Brewer, was the greatest of all time.
I am working hard to produce a movie about this team that is worthy of the players' accomplishments. Besides being a great team, it was a truly integrated team 12 years before Jackie Robinson joined the Brooklyn Dodgers. In the starting lineup there were usually 4 whites and 5 blacks. Considering the era our country was in, it is remarkable.
Since college, in order to write my book and work on the movie, I have delivered several thousand pizzas, cleaned the carpets of several thousand apartments, roofed 25 houses, sheetrocked acres of wall, broken up sidewalks, poured cement, and umpired about a thousand games. It has all been worth it, though, because of the incredible people I have met. I have become good friends with Bobby Robinson, Lester Lockett, Saul Davis, Sherwood Brewer, Connie Johnson, Joe Desiderato, Will Owen, and many, many more. And most of all, I have become great friends with Double Duty!
If there are any questions you have about anything discussed on this web site, or about any aspect of the Negro Leagues, please feel free to contact me. I truly enjoy it!
My friends: Double Duty, Lester Lockett, Bobby Robinson
Kyle's favorites:
Favorite musical performers and songs:
1. Elvis Presley, "Put the Blame on Me" and "Young & Beautiful"
2. The Beatles, "Every Little Thing" and "Eight Days a Week"
3. Frank Sinatra, "The Best is Yet to Come" and "Cycles"
4. Johnny Rivers, "Swaying to the Music" and "It's Too Late"
5. Bob Dylan, "Knockin' on Heaven's Door" and "Subterranean Blues"
Favorite TV Shows, episodes
1. Andy Griffith Show, "Barney's First Car"
2. Seinfeld, "Kramer and the Merv Griffith Set"
3. Simpsons, "Homer as a Boxer"
4. Bob Newhart Show, "More Goo to Go"
5. Odd Couple, "Password"
6. News Radio, "The Rats"
Favorite Movies
1. Planes, Trains and Automobiles
2. In the Heat of the Night
3. Mississippi Burning
4. The Survivors
5. Fletch
Favorite Athletes
1. Baseball – Rod Carew, Pete Rose, Graig Nettles
2. Basketball – Larry Bird, Magic Johnson, Dennis Johnson
3. Football – Ronnie Lott, Lynn Swann, Warren Sapp
4. Tennis – Chris Evert, Jimmy Connors, John McEnroe
5. Boxing – Mahammed Ali, Sugar Ray Leonard, Tommy Hearnes
6. Hockey – Wayne Gretzky, Mark Messier, Brett Hull