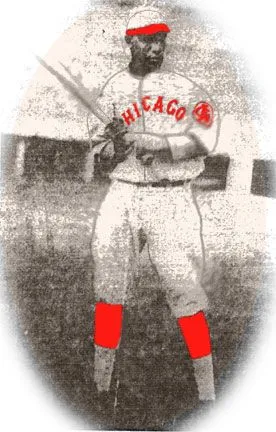 "If he thought you'd be out trying to steal, he'd foul off the pitch if he couldn't hit it well. He could hit 'em anywhere he wanted to."

--Jelly Gardner,
outfielder, Chicago American Giants
Click here to go to the
Negro Leaguer of the Month archives
to read about past honorees.
Negro Leaguer of the Month
March, 2001
Elwood "Bingo" DeMoss
Position: 2B
Career: 1910-1930
Teams: French Lick Plutos, West Baden Sprudels, Indianapolis ABCs, Chicago American Giants, Detroit Stars, Chicago Brown Bombers, Brooklyn Brown Dodgers
HT: 6'-2"; WT: 180 lbs
batted and threw right
Born: Sept. 5, 1889 in Topeka, KS
Died: Jan. 26, 1965 in Chicago
Bingo was the best second baseman of the first quarter century of the 1900s. His size puts him the same class as two other great second basemen of similar stature, Sammy T. Hughes and Ryne Sandberg.
DeMoss, with his daring base running, precision bunting, and sparkling defense, quickly became a star and he moved onto the Indianapolis ABCs and the "Black Big Leagues" in 1915 playing for manager C.I. Taylor. In 79 league games, DeMoss batted .230 with 23 doubles and 32 stolen bases, a rate that would give him more than 50 doubles and 60 stolen bases in a full Major League season.
Like Sandberg 70 years later, fans and teammates often remarked, "You've got to see him play second base!" DeMoss made turning the double play an art form and his range was surpassed by no middle infielder of his day. According to DeMoss' obituary, Bingo committed only one error in Negro League play! Though probably an exaggeration, his errors were few and far between!
Although usually known as a spirited yet classy player, he and teammate Oscar Charleston (known for his temper) got into a brawl with an umpire in 1915 and were put in jail. In the fifth inning of a game versus the Detroit Tigers' Donie Bush's Big League All-Stars, Bush was on first, tried to steal second and DeMoss appeared to make the tag at second but umpire Jimmy Scanlon called Bush safe. During the ensuing argument, the umpire shoved DeMoss, escalating the situation.
According to newspaper reports,"DeMoss came tearing in and started at Scanlon, who started to spar. Charleston came to DeMoss' aid and landed one on the ump's face, causing an ugly wound and letting him take the count. Spectators swarmed on the field, causing the police to take quick action in averting a riot. The two players were sent to jail where they were bailed out."
Mostly, though, Bingo was known as a complete ballplayer. He usually hit from about .275-.300 and played flawless defense.
After two years with the ABCs, DeMoss moved to the Chicago American Giants in 1920, their first season in the newly-formed Negro National League under legendary manager Rube Foster. In 1920 DeMoss batted .301 in league games batting second in the order after Dave Malarcher and before Cristobel Torriente.
DeMoss fit in perfectly with Foster's style of play--a style in which every player was expected to be able to bunt a ball into a hat 15 feet from home plate. DeMoss was the team's captain for six years. There were seasons in which DeMoss had as many as 50 sacrifice bunts in a season (in 2013, the Texas Rangers' Elvis Andrus led the Majors in sacrifices with 16).

The American Giants that DeMoss played for were said to have been able to beat the best teams in baseball without hitting a ball out of the infield!
In 1926, DeMoss was named player-manager of the Indianapolis ABCs; it's believed that Rube Foster may have voluntarily given his star second baseman to the ABCs to give the league more parity. It shouldn't come as a surprise that DeMoss became an excellent manager (after all, he had been managed by Taylor and Foster, two of the greatest in history), and the ABCs had their best season in years, improving from 40 games under .500 in '25 to .500 in '26! DeMoss batted .265 playing part time and led the team with more than 20 steals.
In 1927, DeMoss became player-manager of the Detroit Stars. Though he was 37, DeMoss was still one of the best base-stealers on the team and over the next four years batted about .270 with the Stars while developing young players such as Turkey Stearnes, Double Duty Radcliffe and Huck Rile. In four seasons, DeMoss led Detroit to league records of 70-53, 58-38, 38-39 and 58-37.
In the 1940s, DeMoss managed the Chicago Brown Bombers, a top black semi-pro team and he finished his career as manager of the Brooklyn Brown Dodgers of the United States League in 1945.

In retirement, DeMoss was the treasurer for the Old Ball Players Club of Chicago, which was dedicated to celebrating ex-Negro Leaguers and helping those in need. During meetings at his home, DeMoss entertained some of the greatest Negro Leaguers who ever lived!
DeMoss died in Chicago in 1965 at age 75. DeMoss' hometown newspaper, the Topeka Capital-Journal, named DeMoss 12th in a list of Shawnee County's top 100 athletes of all time.
XXX