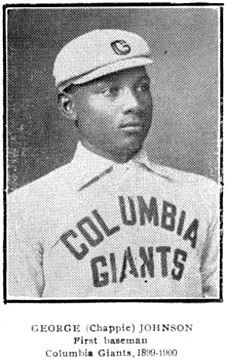 "Chappie Johnson, known as the Beau Brummel of backstoppers, was deemed without a peer as a one-handed catcher. "
-Philadelphia Item, 1904

Click here to go to the
Negro Leaguer of the Month archives
to read about past honorees.
Negro Leaguer of the Month
September, 2007
George "Chappie" Johnson
Born: 1876 in Bellaire, Ohio Died: Aug. 17, 1949 in Clemson, SC Ht:5'-9", Wt: 155 Batted and threw right Position: catcher, 1st base Playing Years: 1896-1921 Teams: Page Fence Giants, Chicago Columbia Giants, St. Paul Gophers, Cuban X-Giants, Leland Giants, Algona Brownies, Brooklyn Royal Giants, Dayton Chappies, Chappie Johnson's Stars, Phila. Giants
Chappie Johnson was one of Negro League baseball's earliest stars, and the first catcher of note, in an era when catching was truly a taxing position. In the late-1890s, when Johnson started catching professionally with the Page Fence Giants, shin guards weren't used, and catcher's mitts were formless slabs of leather meant to take the sting out of pitches instead of actually catching the ball.
As a child, Chappie played on sandlot teams around Bellaire, and was recruited to play on white teams while a teenager. He soon gained a reputation as the best catcher in town, and was playing professionally before his teen years ended.
Johnson had a strong arm and plenty of guts as a catcher, especially considering that he weighed 160 pounds soaking wet, and he was recruited to play on the best Negro League teams of the early 20th century, including the Columbia Giants, Philadelphia Giants and Chicago Lelands.
Besides his obvious skills, another reason Johnson was always in high demand was style with which he caught. 70 years before Johnny Bench made catching with one hand popular, Johnson was experimenting with it in the Negro Leagues. That, and his endless line of chatter, made him a fan favorite.
In 1905, Johnson and top pitcher Lefty Wilson formed a star battery with the Renville, Minnesota semipros, leading them to a state championship. After spending '06 with the Philadelphia Giants, Johnson returned to Minnesota as the catcher for the St. Paul Gophers and stayed with them for three seasons. While with the Gophers, Johnson gained such a fine reputation as a first-class catcher, the he was hired by the white St. Paul Saints of the American Association to run them through spring training.
The St. Paul Gophers team came and went quickly, lasting only from 1906-1909, and they won the League Championship in their last year, beating the Chicago Lelands in a playoff. When the Gophers broke up, Johnson stayed in Minnesota, catching on (literally) with the Long Prairie, MN semipros.
In 1910, Johnson was the only catcher in the Negro Leagues to wear shin guards; others quickly followed.
During his career, Johnson caught such early pitching stars as Rube Foster, Steel Arm Taylor, Dizzy Dismukes and Frank Wickware.
Johnson hit like many other catchers of his day: weakly. Johnson usually batted in the 8th spot in the batting order, and his average usually was around .250, though was considered a great hitter in the clutch.
When Johnson's skills eroded, he owned a managed a few teams, including the Dayton Chappies and the Chappie Johnson Stars.
Johnson was known as a sharp dresser and fine gentleman, and his players loved to play for him. Johnson retired as a player in 1921, but continued as a manager until 1939.
(some information from The Biographical Encyclopedia of the Negro Baseball Leagues)

xxx