"Duty should be in the Hall of Fame.
That's right. Now he does a lot of talking,
but anybody you talk to will tell you he talked
a lot but he was a good ballplayer, and
you can't take that away from a person.
A good catcher, a good pitcher, and a good infielder.
Hey, I know he was in his late 50s and
he would get back there and he'd tell you
'Go ahead and steal if you think you can make it,'
and he would gun you out."
--Slick Surratt, outfielder, Kansas City Monarchs

Click here to go to the
Negro Leaguer of the Month archives
to read about past honorees.
Click below to buy book! Sports Ilustrated called it "Amazing!"
Attention, beer lovers and baseball fans!
Big League Brew is here!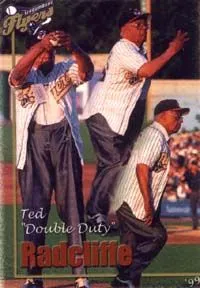 Duty pitched to one batter in 1999 for the Schaumburg Flyers (Northern League)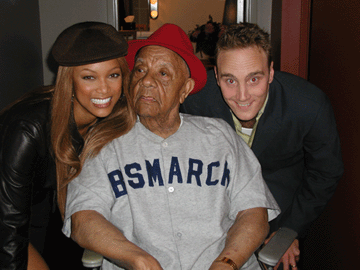 Duty with Tyra Banks and Jay Mohr on the set of
"The Jimmy Kimmel Show" in 2003.
Negro Leaguer of the Month
July, 2004
Theodore Roosevelt Radcliffe
aka Double Duty
Born: 7/7/1902 in Mobile, AL
Resides in Chicago
Ht:5'-10", Wt: 220
Batted right and threw right.
Position: pitcher, catcher, manager
Years: 1919-1954
Teams: Mobile Black Bears, Illinois Giants, Gilkerson's Union Giants, Chatanooga Black Lookouts, St. Paul Gophers, Indianapolis ABCs, Cleveland Red Sox, Cleveland Buckeys, New Orleans Creole, Detroit Wolves, Nashville Elite Giants, Columbus Bluebirds, Philadelphia All-Stars, Detroit Stars, St. Louis Stars, Homestead Grays, Pittsburgh Crawfords, Brooklyn Eagles, Jamestown Red Sox, Bismarck Churchills, Claybrook Tigers, Memphis Red Sox, Cincinnati Tigers, Chicago American Giants, Birmingham Black Barons, Kansas City Monarchs, New York Black Yankees, Rochester Aces, Harlem Globetrotters, South Bend Studebakers, Winnipeg Elmwood Giants, East Chicago Giants, Mexico, Cuba, Puerto Rico, Venezuela
Since my 15 years of Negro League research has largely focused on the career of Double Duty, I haven't honored him with a turn as Negro Leaguer of the Month--he's my favorite Negro Leaguer every month. But, for those of you who have never read my book, the biograpy of Double Duty, or have seen the PBS special I helped with, I want to take this time and space to tell you why Double Duty has intrigued me so for more than a decade.

On July 7th, 2004, Double Duty will turn 102. Whenever someone dies young, it's standard practice to declare, "he really packed a lot of life into his 54 years," or whatever the age might have been. Well, Duty has lived 102 years, hopefully will live many more, and I can honestly say, "He's packed a lot of life into his 102 years!"
Though he has suffered various illnesses that come with living more than a century, Duty still has a zest for life that few can match. When I first met Duty in 1992, when he was 90, I could hardly keep up with him. It's been an absolute honor to call him a friend, not only for the ballplayer he was, but for the person he is.

Enough with the mushy stuff..let's talk baseball.
Duty was born in '02 in Mobile, Alabama and grew up playing ball with Satchel Paige, Bobbie Robinson, Cito Gaston 's dad, Hank Aaron's dad and Billy Williams' dad. At the time, Alabama might have been the greatest producer of baseball talent in the union, at least in the Negro Leagues.
In 1919, Duty moved to Chicago and was discovered by the Illinois Giants and he hit the road. He would play baseball "everywhere a black man could play" for the next 36 years.
I don't want to get into a boring recitation of stats, but there are a handful that you might appreciate.
pitched and caught multiple no-hitters in his career
won more than 400 games on the mound
batted over .300 lifetime with more than 400 homeruns
hit major-leaguers in exhibitions at a .403 pace
was chosen as a pitcher and catcher 3 times each for the Negro League East-West All-Star Game (batting .308, with a homer, one win, one save and a 2.35 ERA)
won the Negro American League MVP award in 1943 (at age 41)
integrated 2 leagues in one season, 1948--the Southern Minny and the Michigan-Idiana League
was still pitching and catching in his 50s; he batted .459 and was 3-0 pitching for Winnipeg in a "triple A" semipro league
played with more than 30 teams, as many as 5 in one season!
To understand Double Duty, you need only remember this: he was the best, and he's not shy about telling you!

"How many men you know could pitch and catch?" he will often say. The answer, of course, is not many!
During the ten-year-span of 1928-1937, I could argue that Double Duty was, along with Martin Dihigo, the most valuable player in black baseball.
Most of these season, Duty won 20 games, while averaging over .300 with power.

In 1934, with the Jamestown Red Sox and Chicago American Giants, Duty had one of the finest years anyone's ever had. He won 18 games, lost 4 and walked only 17 batters all season. At bat, Duty batted .362 and hit some of the longest homers ever seen in North Dakota! After the season, Duty managed a North Dakota semipro team that took on the Jimmie Foxx All-Stars (featuring Hall of Famers Foxx, Heinie Manush and Ted Lyons, along with All-Stars Pinkie Higgins and Doc Cramer, and 20-game winners Rube Walberg and Earl Whitehill.)
The North Dakota stars beat the Major Leaguers in Valley City, Jamestown and Bismarck. In those games, Duty batted .556 and threw a complete game win in Bismarck, not allowing a run until the 9th inning.
I've interviewed more than 50 Negro Leaguers in the past 15 years, and the majority think that Double Duty belongs in the Hall of Fame ("He could do everything but run!" said one player).
The only knock against Duty was that he was able, with his personality, to promote himself as good as Muhammed Ali or Deion Sanders. Some players, frankly, were jealous. The squeeky wheel gets the grease, and Duty's been squeeking for more than a hundred years.