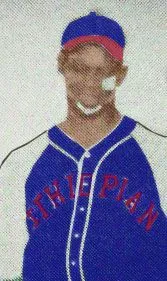 "Fred Wilson played best half-drunk…
He was a dangerous man to be around."
--Jim Everett, Clowns' pitcher
Click here to go to the
Negro Leaguer of the Month archives
to read about past honorees.
Negro Leaguer of the Month
February, 2014
Fred "Evil" Wilson
aka "Sardo"
Position: Outfield
Ht: 6'-1", Wt. 190
Batted: Left; Threw: Right
Born: 1909 in Hastings, Florida
Died: ?
Career: 1929-1945
Teams: Miami Giants, Ethiopian Clowns, New York Black Yankees, Newark Eagles, Cincinnati Clowns, Indianapolis Clowns, Ft. Benning Army team
Herbert "Rap" Dixon
Position: Outfielder
Ht: 6'-2", Wt. 190
Batted and threw left
Born: September 2, 1902 in Kingston, GA
Died: July 29, 1944 in Detroit, MI
Career: 1922-1936

Evil is not a nickname most would aspire to, but Fred Wilson got the name the old-fashioned way---he EARNED it!
Wilson grew up in Florida, and starting playing professionally with the Miami Giants, owned by bootlegger Buck O'Neal (not Buck O'Neil, the famous Kansas City Monarchs' first baseman). Eventually the Clowns were purchased by Syd Pollock, and became the Ethiopian Clowns, known for their fine play, face makeup and "African" names. Wilson, for example, was known as "Sardo" while with the Clowns. As the Clowns transitioned to Cincinnati and Indianapolis, the Clowns carried several men who entertained crowds during breaks in the game, much like the Harlem Globetrotters basketball team.
From the outset, Wilson was known for his left-handed slugging. He could hit for average and power, and usually batted third on most teams he played for over the years. Wilson was a great defensive outfielder with a strong arm, and he occasionally pitched when called upon.
In the late 1930s, Wilson was serving time in prison in Miami and playing on the prison baseball team when the warden called Newark Eagles owner Abe Manley and offered to release Wilson if Manley would sign him.
With Newark in '39, Wilson batted .396 in league games, out-hitting Hall of Famers Biz Mackey, Willie Wells, Mule Suttles and Monte Irvin. According to Irvin, he and Wilson got along fine, but he still considered Wilson "the meanest man I've ever seen." According to slugger Buck Leonard, the only reason Irvin got along with Wilson was because of "Irvin…can get along with anybody." Leonard described Wilson as "a mean player" who nobody liked.
Wilson often exhibited bizarre behavior, possibly from some form of mental illness and definitely heightened by heavy drinking, and he regularly threatened teammates and opponents with his switchblade. And, he didn't just threaten; he stabbed teammate and star pitcher Dave Barnhill during an argument and Barnhill was out for a most of 1944.
Wilson jumped the Eagles to play with the Clowns, and he stayed with them for the next five seasons except for a stint with the Ft. Benning Army team in 1944.
In 1941, the Ethiopian Clowns won the coveted Denver Post Tournament. Going into the final day unbeaten in six games, the Clowns lost to Bona Allen, Georgia when former Major Leaguer Boots Poffenberger won, 3-1. Since each team had one loss, they played again for the championship. In front of 10,000 fans, with many more being turned away, Bona Allen led 5-3 in the top of the ninth when the Clowns exploded for six runs and held on to win, 9-7. The Clowns bagged $4729.66 in prize money, $73,000 in today's dollars.
In 1943, the Clowns joined the Negro American League, but were forced to remove the moniker "Ethiopian" and their facepaing. With the Clowns, Wilson became player-manager in '43 while the team was based in Cincinnati, and he became the first Clown to play in the East-West Game. In front of 51,723 fans at Comiskey Park, Wilson's West squad beat the East, 2-1, with Satchel Paige getting the win; Wilson pinch-hit in the eighth inning and was retired by Hall of Famer Leon Day.
In 1945, Wilson's Clowns played the Kansas City Monarchs in what has been called by some "the greatest pitching dual ever seen." The game started at 7pm and ended in a 1-1 tie at midnight due to Cincinnati's curfew law. Satchel Paige and Booker McDaniels pitched for the Monarchs, and Angel Garcia went all 13 innings for the Clowns. The Clowns scored their run in the first when, with one out, Henry Smith singled and Goose Tatum tripled. Paige stopped the rally from continuing when he struck out Wilson and Sam Hairston to end the inning. The Clowns scored their run in the fifth when John Scott scored on Walter Thomas' double.
Wilson's skills started to fade after the '45 season as years of carousing caught up with him. When remembering Wilson's late night habit, Clowns' business manager Bunny Downs remarked, "Sunlight made Fred Wilson's soul squint."
Wilson retired from baseball and returned to Miami to live, but he died as many expected he would, from a stabbing during an argument in the 1950s.
*Some information from "Barnstorming to Heaven" by Alan Pollock

XXX