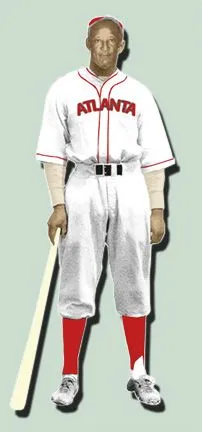 "We were good actors; you had to be a good actor to survive. But we learned the hard way because if you'd run the score up and act like you [enjoyed] beating 'em, those people really did run your ass out of town. It's a fact."
--Norman Lumpkin, Sr.
Click here to go to the
Negro Leaguer of the Month archives
to read about past honorees.

Negro Leaguer of the Month
May, 2001
Norman Lumpkin, Sr.
Position: Outfield
Career: 1939-1948
Teams: Atlanta Braves, Scripto Black Cats, Goodyear Tires, Genuine Parts, Atlanta Black Crackers, New York Black Yankees
HT: 6'-0", WT: 150 lbs
Batted and Threw: Left
Born: 1919 in Atlanta, GA

"If the ball bounces more than once, just put it in your pocket 'cause you're not gonna get him!"
That's how one player described the blazing fast Norman Lumpkin. A left-handed hitter along the lines of Otis Nixon, Lumpkin chopped down on the ball and used his great speed to beat out base hits and consistently bat over .300. Lumpkin was also known as a great bunter, and he would often drag bunts for hits against pitchers he had trouble with.
Lumpkin grew up in Atlanta, Georgia, and honed his skills playing semi-pro ball during the 1930s in the strong industrial leagues. Lumpkin worked and played for many industries in Atlanta, including Goodyear Tires and Napa Auto Parts. Atlanta's industrial leagues were some of the strongest in the country, and on the road played in some of the toughest towns for people of color, including towns in South and North Carolina, Florida, Alabama, Virginia and Georgia. In the deep south, not only were the crowds rough, but so were the third-rate hotels!
"Some of the damn places, as soon as you laid down the bed bugs attacked you and you couldn't sleep," Lumpkin described. "You'd be smackin' 'em all night and you wake up and there's blood all over the sheets."
Flyhawk Lumpkin played all three outfield positions, but, with his speed, preferred center. After excelling in the semi-pro leagues, and being picked for numerous All-Star teams, Lumpkin was signed by the Atlanta Black Crackers after World War II. Lumpkin played for Black Crackers' owners John and Billie Harden (husband and wife), and manager Goose Curry. His Black Cracker teammates included James "Red" Moore, "Sunny Jim" Echols, Butch Davis and "Stretch" O'Kelley.
The Black Crackers played in beautiful Ponce DeLeon Park, known for a huge magnolia tree in right field. The Black Crackers rented the park from the white Southern League's Atlanta Crackers.
The Black Crackers were one of the most popular teams int he South, and only the best of the best could make the powerful Atlanta teams of the 1940s, the heyday of black baseball.
"A lot of players wanted to play for the Crackers," remembered a former player, "but very few could make it."

In his prime, Lumpkin batted over .300 with an occasional inside-the-park homer. Lumpkin thought the best hitter he played against was the Homestead Grays' Luke Easter.
Making it to the black baseball big time did not mean life was that much easier for Lumpkin. He recalled:
"We had to dress at the black YMCA on Butler Street. We weren't allowed to dress out there [at the park], you know, and you couldn't shower there either. You had to take the bus back to the YMCA and shower. On the road we usually slept in private home. Some of the places you could find a black hotel, but you couldn't find a black hotel in small towns."
By the time Jackie Robinson integrated the Majors, Lumpkin was nearing 30 and knew he was probably too old to be a Major League prospect. Lumpkin finished his career with the New York Black Yankees, then returned home to Atlanta where he still resides today.
XXX