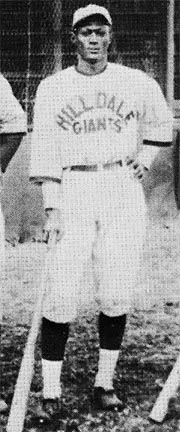 "To prove to fans that he cared
naught for the thirteen jinx,
nor that his thirteen hits out of thirteen
tries were neither accident nor luck,
Dixon bunted down the third base line
and ran it out for his fourteenth safety."
--Baltimore African American newspaper, 8/3/29
after Dixon recorded his 14th hit in a row!
quoted from
Center for Negro League Baseball Research

Click here to go to the
Negro Leaguer of the Month archives
to read about past honorees.
Negro Leaguer of the Month
April, 2014
Herbert "Rap" Dixon
Position: Outfielder
Ht: 6'-2", Wt. 190
Batted and threw left
Born: September 2, 1902 in Kingston, GA
Died: July 29, 1944 in Detroit, MI
Career: 1922-1936
Teams: Keystone Giants, Harrisburg Giants, Washington Potomacs, Chicago American Giants, Baltimore Black Sox, Hilldale Daisies, Pittsburgh Crawfords, Washington Pilots, Philadelphia Stars, Brooklyn Eagles, New York Cubans, Homestead Grays
One of the best outfielders of the 1920s and '30s, Rap Dixon was a five tool player in the mold of Hank Aaron and Joe DiMaggio, and was a member of one of the greatest outfields in baseball history.
After playing semipro ball for Steelton, Pennsylvania's Keystone Giants from ages 14 through 20, Dixon signed with the Harrisburg Giants at age 19 in 1922; the Giants started as an independent team, then joined the Eastern Colored League. The Giants also featured George "Chippy" Britt who would later make his fame with the Homestead Grays.
In 1924, Harrisburg fielded the greatest outfield in Negro League history (with all due respect to the Pittsburg Crawfords' Jimmie Crutchfield, Cool Papa Bell and Sam Bankhead on the 1930s Crawfords) when they signed centerfielder Oscar Charleston, who was at his peak, batting almost .400 and slugging close to .700, and left fielder Fats Jenkins who batted over .320, to go with Dixon. The outfield stayed intact for several seasons, and Dixon had his best season as a pro in '25 when he batted .350 with a .507 slugging percentage; Charleston was better than the year before, batting over .450 with a .800 slugging percentage, and Jenkins again batted over .300. All three outfielders had at least 16 stolen bases in league play, a rate that would give them more than 30 stolen bases in a full Major League season.

This hard-hitting outfield put up similar numbers through '28. While Charleston and Jenkins had average throwing arms, Dixon had a cannon in right, and often put on throwing exhibitions before games, heaving throws from home plate over the center field fence at various parks. Among Negro Leaguers, Dixon ranked with Bankhead, Martin Dihigo and Ed Stone for his strong throwing arm. Dixon was also among the fastest base-runners in baseball, a shade behind Cool Papa Bell.
After the '29 season, Dixon left for the Baltimore Black Sox, and from '28-'30 he batted close to .380 with excellent power and stolen base numbers; including non-league games Dixon was probably a 30-30 man all three years (30 homers, 30 stolen bases). In '29 he collected 14 straight hits, a record that has not been broken in professional baseball since!
Dixon's career highlight came when he played in the first games ever for a Negro League team at Yankee Stadium in 1930 and blasted three homers in the doubleheader! Despite the fact that Dixon could "really rap the baseball," his nickname actually came from the Rappahannock River in Virginia when he played for the Washington Pilots. Against Major Leaguers in exhibitions, Dixon batted over .400, and one winter he played on a team that traveled to Japan where Rap blasted the farthest homer ever hit in that country.
From '32-'36, Dixon had stints with various teams, most notably the Pittsburgh Crawfords, Philadelphia Stars, Homestead Grays and Brooklyn Eagles.

In '33, Dixon was selected to play in the first East-West Game, and though he didn't hit safely, he did steal a base, drive in a run and scored two runs.

With the '35 Eagles, their only year in Brooklyn before moving to Newark, Dixon was one of many veterans (Crush Holloway, Double Duty Radcliffe, Fats Jenkins), as well as talented youngsters like George Giles and Leon Day. Dixon batted over .300, Day went 7-3 on the mound, and Giles batted over .300, and the team finished 15-12 in league play, the best winning percentage in the league.
Dixon was known as a friendly man off the field and a hyper-competitive player on the field who was quick to flash his spikes while sliding, but he was also as a heavy drinker, and his drinking and a back injury caught up with him by the time he was 33 and he retired from Negro League baseball as a player in 1937. During the '37 season, Dixon managed the Trujillo Stars to the Denver Post Tournament Championship--the Trujillo Stars were made up of most of the players who had played for Ciudad Trujillo (Santa Domingo) in the Dominican Republic League: Cool Papa Bell, Josh Gibson, and Satchel Paige and Leroy Matlock, with the addition of Showboat Thomas and Sammy T. Hughes. The Stars won the first prize of $5179.15, about $83,000 in today's dollars.
In 1938, Dixon returned to Steelton, PA and worked for the Bethlehem Steel company while also playing semipro ball with his brother Paul with the Strothers A.C. Baseball Club.

Dixon died in 1944 at age 41 from a heart attack he suffered while riding in a street car. He never married.
XXX