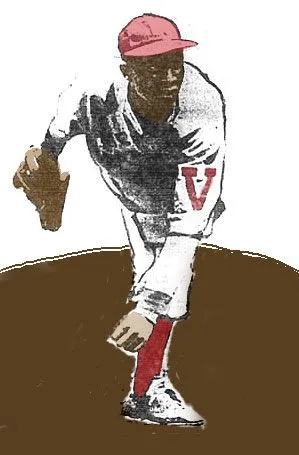 "Not everybody gets to do what they want. When I was a teenager I made a wish to someday play for the Memphis Red Sox. I got exactly what I wished for. That doesn't happen very often."
--Verdell Mathis (quote reprinted from Blackball News)

Click here to go to the
Negro Leaguer of the Month archives
to read about past honorees.
Negro Leaguer of the Month
June, 2001
Verdell Mathis
Position: Pitcher
HT: 5'-10"; WT: 150 lbs
Batted and threw left
Born: November 18, 1914, Crawfordsville, Arkansas
Died: October 30, 1998 in Memphis
Career: 1940-1956
Teams: Memphis Red Sox, Philadelphia Stars, Chicago American Giants, Tampico Alijadores, Roy Campanella's All-Stars
Verdell Mathis was the Negro League's top lefthanded pitcher of the 1940s, but because he played in the South, mostly for the lowly Memphis Red Sox, he never got the credit he deserved.
Mathis, small in stature, was a money pitcher along the lines of Whitey Ford. He had a good fastball, a screwball, straight change and great control. He was also known for a terrific pickoff move that he learned from watching crafty lefty Luis Tiant, Sr.
Mathis was one of 10 children, and from an early age baseball was his passion. Moving to Memphis as a young child and attending Booker T. Washington High School, Mathis followed the Memphis Red Sox closely but idolized the Kansas City Monarchs' Satchel Paige. Years later he would beat Satchel several times head to head, including a 1-0 win in 11 innings in New Orleans, and a 2-1 victory on "Satchel Paige Day" in Chicago. He also pitched with Satchel Paige's All-Stars against Bob Feller's All-Stars in the 40s.

Mathis played semipro ball in Memphis from '37-'39, and in 1940 Reuben Jones was named manager of the Red Sox, and one of the first players he signed was Mathis who he had seen play many times in semipro ball.
Mathis started out as a pretty good outfielder. He hit well, had good speed and had a great arm. His pitching soon overshadowed his hitting, though, and he became a pitcher for good in his first year with the Red Sox. When he didn't pitch, however, Mathis often played outfield or first base, and his lifetime batting average was around .300 against all competition, .278 in league play.
Besides playing in the South where publicity was slim, the Memphis Red Sox were owned by the Martin brothers, known to be the cheapest in the Negro Leagues.
W.S. Martin (a world class surgeon), J.B Martin (a dentist) and B.B. Martin (a politician) owned the ballpark the Red Sox played in, a hotel next to the park, and other real estate. Despite their wealth, they paid there players very low; they originally offered Mathis $65 a month but Mathis held out for $125.
Martin Park was oddly shaped and was a great pitcher's park, with the left field line located 477 feet from home and center field being 366 feet away. And during his pitching career, Mathis had speedy outfielders such as Ducky Davenport and Neil Robinson tracking down almost anything that stayed in the park.
In 1941, Mathis played for Tampico in the Mexican League and won both ends of a doubleheader during the season.

In 1942, Mathis had eight wins in league play, second best in the Negro American League.
In 1944, Mathis went 9-9 in league games, batted .310, and made his first East-West All-Star game. Mathis pitched and won back-to-back East-West games in '44 and '45; in '44 he gave up three hits in three innings and won when Double Duty homered with a man on base, and in the '45 game Mathis struck out four men and singled twice himself to pick up the win. He thus is the only pitcher besides--you guessed it--Satchel Paige with two East-West victories. Mathis also had a perfect batting mark, going three for three in East-West games!

In '45 Mathis accounting for more than half of his team's victories, winning 10 games during a terrible season in which the Red Sox won only 17 (in league play)!
Incomplete statistics show Mathis averaged about one walk and seven strikeouts per nine innings in league games, and had several games in which he struck out 15 more more.
After the '45 season, Mathis had surgery to remove bone chips from his throwing elbow, and he lost a lot of speed off his blazing fastball.
Mathis didn't pitch regularly after the '50 season, but he did play outfield and occasionally pitched into the mid-1950s, and barnstormed for several seasons with Roy Campanella's All-Stars in the fall. Mathis' top salary was $600 a month at the end of his career (more than $5000 in today's dollars), but remarked that he "played for the love of the game...not for the money...because there was very little of that."*
Sam Brown, publicity man for the Red Sox for years, named his all-time Memphis All-Star team and Mathis was on the pitching staff along with Double Duty Radcliffe and Carl Glass.
After retiring from baseball, Mathis worked for the Colonial Country Club in Memphis for many years.
XXX

*Quoted from "Voices from the Negro Leagues" by Brent Kelley