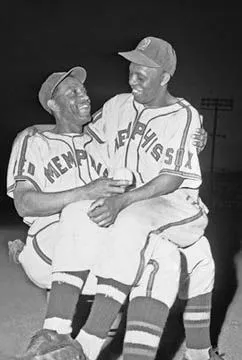 published in Dallas News
"Papa Willie meets his ambitious offspring at Bugle Field to answer the moot question of whether or not a rising young athlete (Junior, 24) is better than his old man (who was 40). Despite his ample years, [Senior] is unwilling to concede that age must concede to youth."
--Newspaper report quoted in "Willie Wells: 'El Diablo' of the Negro Leagues" by Bob Luke
Click here to go to the
Negro Leaguer of the Month archives
to read about past honorees.
Negro Leaguer of the Month
March, 2012
Willie Wells, Jr
Position: infielder
Bats: Right, Throws: Right
Height: 5'- 5", Weight: 160 lbs
Born: October 23, 1922 in Austin, Texas
Died: ?
Career: 1944-1951
Teams: San Antonio Bluejackets, Chicago American Giants, Memphis Red Sox, New Orleans Eagles, Winnipeg Buffaloes
Willie Wells, Jr. had his name in common with his dad, but that's about where it ended. Although most shortstops would pale in comparison to Willie Wells, the greatest shortstop in Negro League history, Wells' son did not compare favorably to even average shortstops.
Wells was born in 1922 in Austin, Texas when his father was 16, and was around his pop's teams by the time he could walk. Though Willie, Sr. was short and husky himself, Willie, Jr. was even shorter and less husky.

On the sandlots of Austin, Wells was a slick fielder, but hitting was always a challenge. Junior's best sport may have been football. Despite his size, Wells was a speedy and sure-handed receiver, and in 1942 he helped his Anderson Yellowjackets high school team to a perfect 11-0 record and the state championship. In the title game, Wells caught five touchdown passes and kicked four extra points in the 40-0 win.
While still in high school, Junior played with the semipro San Antonio Bluejackets, and he stayed with the club from '41-'43.

In 1944, Wells left his home state and tried to forge a baseball career on his own, signing with the Chicago American Giants. He struggled at the plate, batting under .200 on a team that featured stars such as Alec Radcliffe, Ducky Davenport, Jesse Douglas and Art "Superman" Pennington. After a few months of struggling, Wells jumped to the Memphis Red Sox, managed by his father.
Wells struggled during his tenure with the Red Sox, always hitting right around .200, but he did field well at shortstop, third base and second base, and was used mostly as a utility man and late-inning defensive replacement. And, of course, every time Junior and Senior took the field, they made history as the only father/son combo in the Negro Leagues.
Juniors best statistical season was in '48 when he batted over .250 and played shortstop much of the season while his father shifted to third base.
In 1950, Wells, Sr. was hired to manage the Winnipeg Buffaloes of the Manitoba-Dakota League, and he brought his son with him.
Though Junior batted a mere .214 during the regular season in 112 at bats, he did have a knack for delivering some clutch hits. Junior beat the Carman Cardinals with a walk-off RBI single, had two RBIs versus the Brandon Greys to help the Buffaloes win a $1400 tournament, hit a walk-off single in the 13th to beat the Elmwood Giants, and blasted a three-run homer versus Carman to win another game.
The Buffaloes won the 1950 Man-Dak championship beating the Minot Mallards in the opening round and the Brandon Greys in the finals. The final game is still talked about in coffee shops across Canada as the Buffaloes' Leon Day beat the Grey's Manuel Godinez, 1-0, in 17 innings!
Wells played the '51 season with the New Orleans Eagles, then retired from the Negro Leagues, while his father continued to play for several more seasons.
XXX